September, 2015
I'm in a kind of limbo now, after finishing up the main writing of the Masters, and waiting for the examiners grade and edits, so I can then publish the thing (here and in the University Library) and actually feel finished.
As part of the process, I made a VR Work called Lieutenant Butterfly - ((Dragons)), using the Gear VR. The final examination of the work was using this as a centerpiece, with the paintings that had been completed all throughout the degree being displayed next to it.
The Examination Setup
Moment from the VR Work
This will be available to download through itch I think, (if you own a Gear VR) very soon. I considered the final work as a kind of diagram in relation to the writing, so when the writing has been published here, it will make slightly more sense - but the VR work can still be experienced on it's own. I just want to get the writing up at around the same time.
So far, outside of the course I've been involved in a couple of things - a couple of game jams and the recurring youtube babble 'Night Mission' - recorded and edited by Alexey Botkov of Frogshark.
As for the Gamejams - first was Kiwijam 2015, where I teamed up with Chris Lyne and Mike Blythe to make a game about dung beetles, and the second was the recent Ludum Dare, where I made a game about being a monster.
The Wonderful World of Shittiphus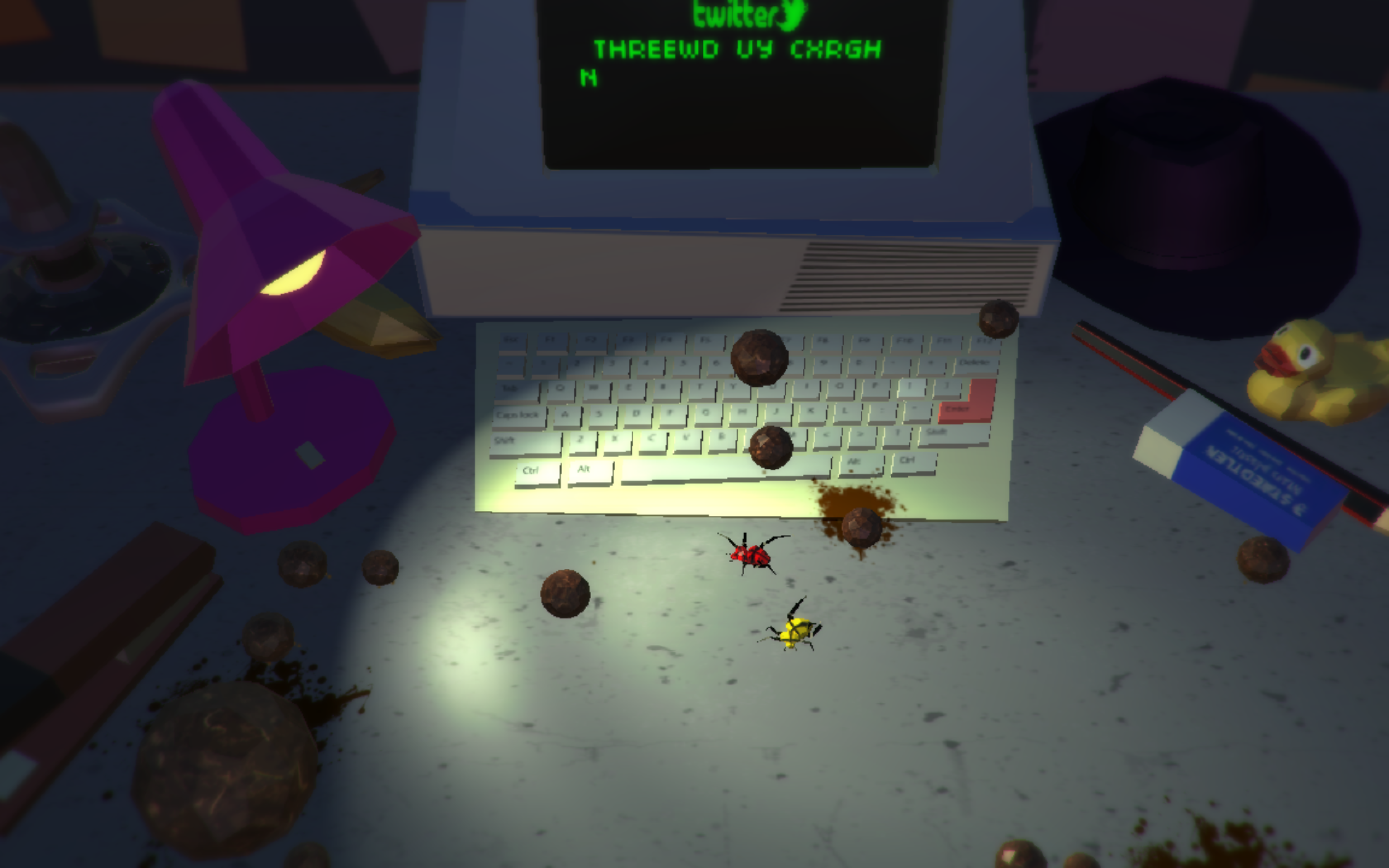 Both of these made me think about different ways of using Playmaker, the visual programming software I use in conjunction with Unity. Even though the community is really informative, there doesn't seem to be a lot of best practices when it comes to collaborative works, and managing larger projects. With 'HeartMonsterrr' - I tried to adopt a MVVM approach, (at least before I had to rush to make the deadline, and things got a bit messy at the end, as well as an unclear understanding of the approach itself) - and split all the concerns appropriately. It might not be the most appropriate structure for visual coding in the first place, but helped me think about managing larger projects.
I also attended the Creative Gaming Symposium at AUT, and am currently doing a few hours tutoring for a Digital Design paper there - talking through themes, and managing production of some student projects.
Really need to get some more work, or start finding other ways to make a living.